Video Links
Below are some links to YouTube where we've posted some videos of our trips.
UPDATED Apr 26, 2012 Once you click on a link, and watch the video, you can use your "Back" button to come back here or click the area marked "More from snakekirby" and hopefully see a list of all our videos. You can also search YouTube for Bocas del Toro or other locations and see videos from other people visiting this area. Share what you find in the area marked "Comments" located at the end of each of our blogs. Hope you enjoy!
Click on one of the video links below: (Once you're connected to YouTube, click on "More From snakekirby" to see all we have posted, or use your "Back" button to come back here.)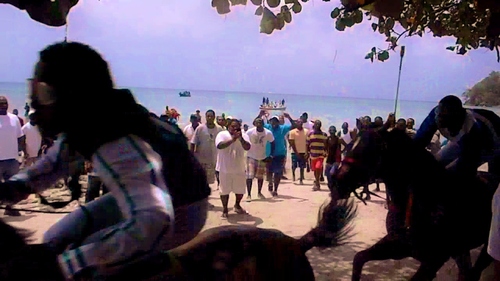 The horses and jockeys pass within arm's distance as they round the first corner along the beach surrounded by hundreds of spectators.
Capitan Carlos - Our favorite water taxi driver.
Carlos is always in a good mood. He understands English fairly well and has taken us on many different trips like snorkeling, and jungle tours. We met him and his wife (Gracelda) July 2007 when we first visited Bocas. She is a cook at the hotel where we stayed Ancon Expeditions which we can recommend if you'd like to visit the area.